Frequently Asked Questions
Q: Why Do I need to hire a Part 107 Certified Commercial Drone Pilot?
A: The FAA (Federal Aviation Administration) requires a drone pilot to pass the Part 107 exam before legally flying "for the furtherance of a business."  In other words, if you are a Realtor, Roofing Contractor, or just someone who wants to fly a drone and get paid for doing so, you need to be a Part 107 pilot. If you want to have someone fly a drone for your event or business, so that you can use the video or photos to promote it, you need a Part 107 pilot. Basically, if you are using, or want to use, a drone for anything other than just flying around to have fun, you need to be, or hire, a certified Part 107 Commercial Drone Pilot.
The FAA has placed multiple restrictions for the safe operation of drones.  Some are quite reasonable, while others may seem frivolous to the  uninformed. Most of these regulations have been developed because of unsafe drone pilots who recklessly endangered others, or in a bid to improve safety to others.
Some examples:
Flying over people or moving vehicles is prohibited, unless the people are an active part of the crew operation and are aware of the the drone's presence.  (Note: there are strict rules about this type of activity and it may require a waiver and special safety equipment on the drone.)
Flying more than one drone at the same time. A pilot cannot operate more than one drone at the same time
Flying more than 400ft above the ground or structure is prohibited without a waiver.
Flying near certain sporting events, airports, military bases, etc., is also prohibited
Flying beyond visual line of sight (VLOS) is prohibited
Flying from a moving vehicle, if the pilot is the driver, is prohibited
Flying a drone at night for commercial purposes is prohibited. (see below)
Some areas require permission to fly above a certain height, or to even launch a drone. There are some areas where you will never get permission to fly,  but a commercial drone pilot has a way to request advance approval, that a recreational pilot doesn't.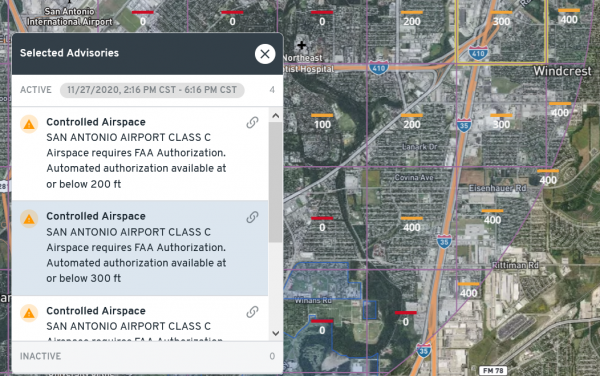 Certain areas that have restricted heights and times for flying, may require 24-48 hour advance coordination or longer on weekends and holidays. We have much experience in contacting the required ATC agencies in the San Antonio metro area, including San Antonio International Airport, Randolph AFB and Kelly Field / Lackland AFB. We've also worked with the managers /operators of many of the smaller private air parks / airports in the region, even getting permission twice to fly directly in line with the runway flight path under special circumstances.  Getting authorization is never guaranteed, so the more lead time a project provides, the better our chances of gaining permission to fly the mission will be.
Commercial flights are generally restricted to daylight hours only, or within 30 minutes of sunrise and sunset  (i.e. we can start flying 30 minutes before sunset and continue until 30 minutes after sunset).  Recreational or Hobbyist pilots (i.e. non-commercial flights) can fly anytime 24 hours, as long as they have the appropriate anti-collision strobe lights installed.  At Yellow Rose Drones, we have all of the required anti-collision lights, plus extras red / green strobes for higher visibility of the drones.
Weather is often times the most restrictive factor when scheduling flights. Temperature ranges above 100 degrees (F) increase the danger of electronic damage to the drone.  Temperatures below freezing may result in shorter flight times.  Rain is usually an automatic cancellation.  High winds, in particular high wind gusts, can keep a drone from flying.
Yellow Rose Drones has flown near the coastal area in winds gusting 20-25mph in the past, but our preference is to generally only fly when wind speeds are below 15mph for safety reasons.  Our rule of thumb has been, if it's not comfortable weather for the operator, the drone won't like it either.